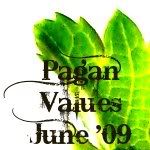 It's not an exclusively Pagan value, but very few are. We have silence, within the witches pyramid, and well known as a skill. Patience and the ability to listen; but also, in the druid and Wiccan open circles, there voices; their creativity is so open and stunning.
As I briefly mentioned, though somewhat rambled off topic; a separate aspect of voice is void. To Be Silent is one of the four base edges of the Witches Pyramid. I've just spent almost an hour in silence as the damn chorus rang out and some clouds tinted pink with sunrise. The dawn's just brought rain with it too.  Five hours later, the sky's blue, though with some white cloud, and the sun is streaming. 🙂 This is spring.
In my house, I seem to be the only one willing to speak up. My house-mates will complain and make comments; but when it comes ot going to the people who'll actually be able to solve these problems, they won't even do it anonymously, let alone sign their name at the bottom of the form (so to speak). It's not a purely pagan value to speak out; the cliché words of "make a difference" or "change the world" or even "leave my mark" are well versed and often heard from mouths of many faiths.
On a Pagan Level; the chanting around the fire or the performances at the druid Eisteddfodau are just two examples of this voice. The poetry which brings laughter, the song which brings silence, peace and smiles; the chants which bring community and teach of key elements. I hadn't heard the "Lady spin your circle bright" song, now the elemental ones; I didn't know a lot of The Spiral Dance; though I did read the book 4-5 years ago. 
Voices teach. They soothe; connect and create. Voice; is a VALUE.
 *~* Eisteddfod (plural Eisteddfodau)– A Bardic festival and competition of the performing arts, from the Welsh, meaning 'a session or assembly'. Usually opened with a Druid ceremony.